Custom Picture Framing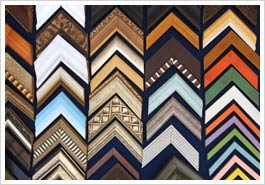 PHOTOQ provides a professional custom picture framing service specializing in framed children and
familyportraits, wedding images, poster prints, corporate packages and the framing of memoribilia such as
medals.
We have hundreds of mouldings to chose from and have been picture framing for over 10 years. We pride
ourselves on our professional service, quality workmanship and expert design.
All of our custom frames are made by Paul Hume, owner and operator of PHOTOQ.
We offer a complete print and framing solution.
There is no need to visit a specialist photo lab and then a picture framing shop, we are both!
We offer the following services:
Printing and framing as one package.
Framing of memorabilia
Framing of Football Jerseys
Wide range of stained timber frames
Antique style mouldings
Gold and Silver Mouldings
Original Art Conservation Frames

Stretching of Canvas and artwork
Printing on Canvas
Graphic Design for business
Laminating
Blockmounting
Foam display mounting
Photo Restoration
Picture Framing Repair
Click here if you would like us to contact you regarding your framing requirements
PHOTOQ specialize in catering to the commercial and business customer, we offer bulk framing options including detailed proofing proceedures for
corporate customers. The following are just some of the business we are proud to have completed image and framing projects for:
St.Vincents Hospital Melbourne

Eye and Ear Hospital Melbourne

Victoria Police
The Art Gallery of N.S.W
Melbourne Grand Prix Corporation
Camberra Archivies and War Museum
The University of Melbourne
Vic Roads
Collingwood Football Club
CSIRO
PHOTOQ take the hassle out of dealing with a printer and a framer, we understand that deadlines and budgets are important and we are here to help.
If its certificate frame's, medals, commemorations or simply advertising that your business requires then we will have a solution for you.
Call us on (03) 9855 0006 to discuss your next project.
Block Mounting and Laminating
PHOTOQ provides Block Mounting and laminating services to finish your image in a sharp and modern fashion often selected when the desired look is for the image only to be viewed rather than having a frame surround the image.
Your image or artwork can be mounted on either 3, 6, 9 or 12mm MDF timber finished with a black edge.
Also popular is mounting your image on foam which is a light weight option often preferred when non permanent fixing solutions are required. The image is mounted to either 5, 10 or 20mm foam and the a black edge is added for a sleek look.
Customers have the option of finishing and protecting their image/artwork with either a Matt or Gloss lamination.