Other Transfer Services
Transfer and convert Audio Cassettes & Reel to Reels

Mix tapes were the best weren't they! Playlists will never replace a good mix tape, maybe you made one for a road trip or maybe you made on for your girlfriend. The Compact Cassette as it was known was introduced in the early 60s and had a good run until the early 90s when CDs came out. We can put your audio cassettes and reel to reels onto CD for you. I'll never forget the day my walkman ran out of battery and Kylie Minogue sounded like Rick Astley. We even to 8-track.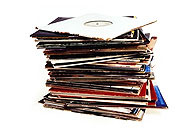 Transfer and convert Vinyl LPs

Who hasn't got a couple of these babies laying around the place? You just can't beat the sound and they don't quite sound the same on MP3 do they? Maybe you still listen them? Maybe you want to listen to them in the car! Vinyl records were first introduced back in the late 40s and (apparently) left the mainstream in 1991. We can transfer your old (or new) 6", 12" & 78s to CD so you can enjoy them again or maybe just more conveniently.

But wait, there's more...
Hard drive HDD video camera transfers
Mini DVD & CDR video camera transfers
NTSC to PAL conversions
Micro cassette transfers
Still not sure?

There is so much more that we can do for you, so don't hesitate a moment longer, give us a ring on 0420 376 383 or drop in and we may be able to help.
What if I am not near Melbourne?
If you are not near Melbourne don't despair. Just download, print and fill-in our DVD transfer postal order form below and send it to us with your tapes or reels via Express or Registered Post and leave the rest to us. We will ring you when we receive your order to let you know it has arrived safely and arrange payment. You may also include a self-addressed Express Post bag with your order to avoid a postage and handling fee.

Please note: Please do not send us copyright material to transfer to DVD unless you are the copyright holder (proof will be required) or have written permission from the copyright holder (this will be required with your order also).