8mm Tape to DVD transfer. Melbourne, Darwin, Hobart, Perth, Adelaide, Brisbane, Sydney, Canberra & the rest of Australia.
Transfer your 8mm Tapes to DVD, file or hard drive today!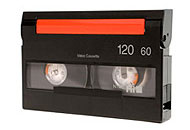 Come on all of your budding Stephen Spielbergs and David Attenboroughs! 1985 saw the introduction of the first Video8 camcorder, a few years later a slightly higher quality version of Video8 called Hi8 was released and then in 1999 Digital8 was introduced, which used technology very similar to MiniDV but stored on Video8 tapes. Owners of any of these three media should be aware that the tapes are very prone to degradation and any tapes older than 15 years should be digitised as soon as possible.

If you would like to know how much it costs to have your 8mm tapes transferred to USB or DVD, please ring Photo

Q

on

(03) 9855 0006

to get a quote.
We don't just transfer 8mm tapes to DVD.
We also transfer VHS, S-VHS, Beta, VHS-C, Hi8, Digital8, MiniDV and Umatic tapes.
We can also transfer your old 8mm, 9.5mm, 16mm reels to DVD disk, file or hard drive and Slides, negatives and prints to CD!
What if I am not near Melbourne?
If you are not near Melbourne don't despair. Just download, print and fill-in our DVD transfer postal order form below and send it to us with your tapes or reels via Express or Registered Post and leave the rest to us. We will ring you when we receive your order to let you know it has arrived safely and arrange payment. You may also include a self-addressed Express Post bag with your order to avoid a postage and handling fee.

Please note: Please do not send us copyright material to transfer to DVD unless you are the copyright holder (proof will be required) or have written permission from the copyright holder (this will be required with your order also).